About Us
You like fresh, local, organic food and you want it delivered right to your home? At Pfennings Organic and More, we have you covered! We've been delivering organic goodness to people's homes and workplaces since 1998.
The History of Pfennings Organic & More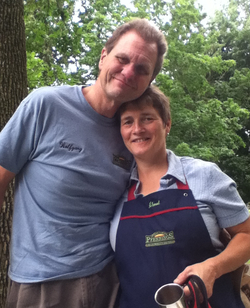 We are Almut and Wolfgang, storeowners, health enthusiasts, and parents of five wonderful health-minded children. (You may see them around the Store from time to time!)
Almut founded Pfenning's Organic & More in 1993. Back then it was a small out-of-the-barn store on Pfenning's Organic Vegetable Farm, where Almut grew up.
The Store moved to Baden in 1996, and then to St. Agatha in 1998, where it's been ever since.
We strive to provide our customers with affordable REAL FOOD — fresh, certified organic, local fruits and vegetables, groceries, and some processed "health foods". We also offer locally-sourced organic pasture-raised meat, chicken, turkey, beef, pork, fish and many other items.
In addition to all of this, we also carry bulk items, such as grains, flours, beans, nuts, seeds, spices, herbs. With our online service we offer you all of this, conveniently delivered right to your door!
Stop by and see what we have in-store or order a Food Basket for delivery! Don't forget to follow us on Facebook and Instagram!
The Beginning of Food Basket Delivery
In 1998, due to popular demand, we launched our Food Basket Home Delivery Service.
Almut packs fresh Food Baskets that our customers love every week! After that, Wolfgang delivers them, bringing delicious and wholesome food directly to the homes of our customers.
Many of the vegetables in the Baskets come from the Pfenning's Farm, but we also offer the best in local organic produce from all over Waterloo and the surrounding regions, and from dozens of family farms.
In the summer, we can even include near-sustainable fruit from the Niagara Region. Anything not grown regionally we get from outside organic sources, preferably Canadian. In the winter, we will see produce coming from the U.S, Mexico, Central and South America.
Some of Our Local Growers
You may recognize some of the local sources from the Basket Contents lists, such as HFF (Huron Family Farms), HCF (Huron Community Farms), HOPE (Healthy Organic Produce Enterprise, from Aylmer), Hack Farm (north of Kincardine), Golden Acres (north of Stratford), Fertile Ground (just outside of St. Agatha), Organic Oasis (north of Stratford), Palatine (our Niagara fruit producers) and others.