Sunday, September 5, 2021

We are sad to share with you that, after eighty-four years, Barnhild Pfenning – Almut's mother who was now living on the Hack Farm near Kincardine under the loving care of her oldest daughter, Elke and her husband, Martin (we wrote about this in our last Newsletter # 272) – has unexpectedly relinquished her physical presence on this earth.

Mutti (or mommy), as she was lovingly called by her children as well as her sons and daughters-in-law, was the heart of the family and the soul of the Pfenning's Farm for many decades. For all of us, she set an example of what it's like to nonchalantly excel at a task – especially hoeing – and be manifestly happy doing so at the same time. It was in 1981 when Mutti came to Canada with her husband, the late Wilhelm Pfenning, and their four children, three of whom were underage. They all worked diligently and steadfastly as a whole family  towards establishing what became known as Pfenning's Organic Vegetable Farm – a very pioneering organic farming venture for the time in Canada. Mutti, with the help of her family, also ran the farm store which was open a couple days a week for customers to buy their lettuce, carrots, potatoes and more, right off the farm. This is the little out-of-the-barn farm store that became Pfenning's Organic & More when Almut took it over in 1993 (you can read more about that here).
In our Store, we have been striving ever since to keep the qualities and the spirit alive that Mutti embodied and that are still flourishing within our midst: friendly and accepting of everyone and everybody, diligent, hard-working, alternative-minded and – together with her husband, Wilhelm – always supportive of the natural, holistic and non-invasive, non-coercive approach, with an indomitable
joy for life.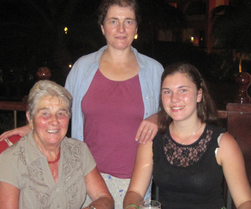 During the time we were honoured with Mutti's presence here on earth, we – Mutti, Almut and our daughter, Barnhild, named after her grandmother (and sometimes Wolfgang too) – were so fortunate to spend some leisure time with her on the island resort in her beloved Cuba. For many years, Mutti and Wilhelm travelled to Cuba, as circumstances permitted, for some relaxation time away from the ever-pressing duties which she lovingly embraced, yet was thankful to briefly replace with a well-earned vacation in this tropical paradise.
Needless to say, Mutti always left her mark – be it in Cuba or wherever she was. It was the mark which defined her as an authentic human being: portraying her steadfast and unperturbed presence as a genuine expression of caring and
mindful humanness.

Mutti, we all dearly miss you!