Agreed, we are not champions of the Blog. However, to resurrect our tarnished Blog reputation, we must maintain that our regularly sent out Newsletters - Veggies on Wheels, our monthly Home Delivery Newsletter, and Almut's weekly Store News and Specials update - have attained more importance than a simple Blog. We do also seem to get more response and feedback through these Newsletters, which you can always subscribe to here if you haven't yet.
There is, however, the introduction of a NEW Food Basket which we would like to make you aware of.
We are introducing this Box as an answer to all of our customers who may at times be overwhelmed by the sheer amount of produce coming to you in our regular small and large-sized Baskets. The BITZI Box has only about 6-8 items and - as all Boxes - is planned new by Almut every week. It can include LOCAL AND IMPORT produce, mostly veggies and some fruit, and costs ONLY $20.00 - just enough for a single or small household.
So don't be overwhelmed, go ahead and try the BITZI Box!
| | |
| --- | --- |
| | Wolfgang Wurzbacher at 3:26 PM |
| | |
| --- | --- |
| | Sunday, September 16, 2018 |
Time for a BLOG, when Pfenning's Organic Vegetables - the FARM - offers another FARM TOUR!
IIf you are interested, the next Pfenning's Farm Tour is on Saturday, September 29nth from 1-3 pm.
Sign up soon to get one of the few spots: Email veggies@pfenningsfarms.ca.
For more info, visit the Farm on Instagram.
Looking forward to seeing you there....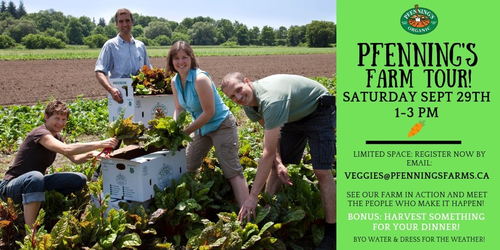 | | |
| --- | --- |
| | Wolfgang Wurzbacher at 11:31 AM |
The Pfennings family is grieving the tragic loss of Andreas Pfenning, Ekk and Jennifer Pfenning's oldest son (24) and Almut and Wolfgang's nephew.
If you would like to offer your condolences, you may do so here.
A heartfelt thank you to all for your kind thoughts and prayers.
Wolfgang, Almut & the Pfennings Family
| | |
| --- | --- |
| | Wolfgang Wurzbacher at 4:57 PM |
| | |
| --- | --- |
| | Wednesday, January 11, 2017 |
Back for another year - and another Blog! About time, as one would say. Nothing new since last April? Not really. The summer was very frenzied and an exceptional challenge, as you may suspect. Have a look at our last Newsletter for a recap of the growiing year. But now, heading towards the more peaceful, less agitated time of the year, there is more time for reflection and inner contemplation.
Before that "inner part" becomes too dominating, I must point to our amazing selection of Vegetables and fruits in our upcoming Food Baskets, the second week of Baskets in the New Year. Yes, this is the so-called meagre time of the year. However, looking at the rich and varied selection offered by our Food Baskets, some may beg to differ.
Looking back at the past growing season (you may have read the recap in the meantime), it becomes clear that there is a lot of work and effort behind everything we eat. This may escape one's view when beholding the nutritional abundance still at our disposal. But just recently, we were told that vegetable prices for things from California (most of our fruits and veggies come from there in the winter) may rise again due to heavy rains. Rain in California sounds good, after the prolonged drought (now in its fifth year) they have been having - just not so much in such a short time.
Well, as you probably know now, we too had a drought last summer, and we did sorely feel it. Things didn't grow or even germinate. Then they grew too fast. What ended up growing often turned out small or flawed. We can still see the results now when we package small heads of cabbage, scabby potatoes and timy onions. These are things we must live with - and do live with. Despite all of these stumbling blocks, we are still very happy to be able to offer you such a beautiful selection of Food Baskets. As always, thank you for your ongoing support - and looking forward to offering you another year of the best in organic home delivery, far and wide!
| | |
| --- | --- |
| | Wolfgang Wurzbacher at 1:00 PM |
| | |
| --- | --- |
| | Monday, September 21, 2015 |
On this beautiful begiining of autumn, we also have to mention that the prosperous time of local (Palatine Niagara) fruit is drawing to an end. This week's Baskets are still  featuring Pears, Peaches, Plums and some even Nectarines - all from Palatine Fruits in Niagara. We are sad to see the last fruit run this week. You will enjoy their fruit in our Baskets yet coming week, but then we will need to go back to fruit from more remote regions, such as B.C., California, Mexico and South America. it was very nice while it lasted, and we will be looking forward to next year's offerings.
In the meantime, it appears that this is Organic Week. This kind of passed us by, since we have about 52 organic weeks every year. One more or less does not make all that much difference to us.
For all of us who are thankful for any celebration, we wish you a Happy Organic Week!
| | |
| --- | --- |
| | Wolfgang Wurzbacher at 4:53 PM |
| | |
| --- | --- |
| | Monday, September 7, 2015 |
Happy Labour Day!
Yes, we ARE delivering this week, despite today's holiday - just to appease some of the rumours out there and reassure anyone still double-guessing. We hope you are enjoying this splendid barbecue-style holiday!
It's that time again - back to school, during some of the hottest days yet of this summer.  If all children are like our own, they will be looking forward to going back, more or less and in spite of themselves. The summer was long and hot, but a lot of our young ones spent it working. For many of them, school is the promise of more civil, perhaps less strenuous activities and a return to acquiring more theoretical knowledge which they will be able to test for its practical value when the next school vacation rolls around.
NIAGARA FRUIT and WHOLE FRESH CHICKENS NEARING END
Summer is almost over and Palatine Fruit deliveries from Niagara will soon be too. Our next-to-last Whole Fresh Chicken run is coming to an end by this Friday. So if you missed getting on the Chicken List, you may still be in luck if you would like to give it a try, either by calling us at the Store - 519-725-4282 - or clicking here to order. If you did miss it, despair not. There will be one more Chicken Run coming in November - stay tuned.
WELCOME BACK!
We are also welcoming back all of you who were away for the summer and are back with us, either by receiving a Food Box or by visiting us at the Store. It is our great pleasure to continue bringing you all the organic goodness you aspire to, from near and far, just as we have been doing faithfully since 1998. My oh my, how time goes by...
An enjoyable rest of summer to all of you!
| | |
| --- | --- |
| | Wolfgang Wurzbacher at 6:22 PM |
... as they say at this very hot time of the year. Gradually, rain would be appreciated again, although the situation is not critical yet.
In this week's BLENDER BASKETS, as a last-minute decision we had to leave out the planned Palatine Cherries due to some quality issues. We replaced them with a Pear, a Gala Apple and two Oranges.
PALATINE FRUIT
If you are still new with the near-sustainably grown Palatine Fruit, just go the The Good Peach to learn more and order local fruit from the Niagara Region. One of the locations it is delivered to is our Store in St. Agatha where you can pick it up. You can also have it delivered to your house just like a Food Box order.
Orders can generally be placed by Wednesday noon for pick-up at the Store on Friday or by Sunday noon for pick-up at the Store by Wednesday. If you prefer delivery and live in the outlying areas (any location other than Kitchener-Waterloo) which are delivered on Tuesdays, such as Cambridge Brantford, Guelph and Stratford, you may want to place your order for Friday. We can keep it in the cooler for you and then deliver it to you on Tuesday. Wednesday deliveries can order for Tuesday and we can deliver to you on Wednesday, if requested. Just let US KNOW that you ordered fruit at THE GOOD PEACH and would like it delivered. Call 519-725-4282 or email us.
DELIVERY BREAK August 4/5
As you may know, there will be NO DELIVERIES coming Civic Holiday week, August 4/5. We will be back for regular deliveries again the week after, August 11/12.
Many of you are still on holidays, but we will be looking forward to welcoming you back in August and the coming weeks. You will be returning to an incredible variety of local organic production from Pfenning's Farm and some fifty more organic growers in the immediate region.
Here's hoping you all enjoy the remainder of this beautiful summer!
| | |
| --- | --- |
| | Wolfgang Wurzbacher at 1:23 PM |
After an extended spring silence, things are picking up - and give opportunity for a quick update.
Banana Break for Small Blender
All Small Blender Basket recipients, please, take note that this week - June 9/10 - there will be NO BANANAS. Instead, you wiill find a deliciously juicy and tasty Anjou Pear. A recent Banana delivery lag has imposed this measuer on us. Thank you for playing along!
In other news, you may want to have a look at the Pfenning's Farm's new site, especially their Blog, where you may see interesting updates and pictures from the Farm. After all that rain and the near-tropical growing conditions, things are really taking off.
Chicken List
Finally, if you have not yet gotten your name on the Chicken List for our soon to come Farm-Fresh Pasture-Raised Whole Roasters, you may want to do so by visiting our Fresh Chicken order Page. Just another 3-4 weeks and they will be ready for pick-up at the Store... or delivery if you get in touch with us to set it up.
A terrific month of June to all!
| | |
| --- | --- |
| | Wolfgang Wurzbacher at 3:32 PM |
| | |
| --- | --- |
| | Tuesday, February 17, 2015 |
After the ever-whimsical weather made me eat my own words (alluding to my comment in our last Newsletter on how little snow we had had so far), it added injury to insult by making the temperature drop to a record low of -34.1 degrees on Monday. Nonetheless, we hope you all received your fruits and vegetables in good condition.
Surplus Spinach
All of you who are receiving a LOCAL BASKET this week (February 17/18) will find a Spinach bunch which is obviously not local, but from more temperate growing areas (California in this case). We had some Spinach surplus and allowed ourselves to share this with our Local Basket customers (at no cost). In a sense it is still local, coming from the same continent. Enjoy!
Mid-Winter Delivery Break
Please, also remember that there will be NO DELIVERIES coming week, February 23/24. We will be back after our break on March 3/4.
Keep warm and healthy!
| | |
| --- | --- |
| | Wolfgang Wurzbacher at 6:33 PM |
This week - January 20/21 - the Blender and Wild Baskets will be including little jars of Pureed Ginger, a specialty that seemed to offer itself at this time of the year, Ginger being known as one of the hotter kitchen spices.
Before you find yourself hopelessly lost, pondering over what to do with this unusual item, we would like to offer - not a recipe - but a short, helpful tip on what to do with your little Basket treasure. According to a short but interesting suggestion found in the depths of the Internet, Pureed Ginger is good in oatmeal raisin cookies, soups, jams, salads, stews...  in just about anything. Generally, you can use it wherever a recipe calls for Ginger. That's it in a nutshell.
Remember, Ginger is a hot spice, so use in moderation... and enjoy!
| | |
| --- | --- |
| | Wolfgang Wurzbacher at 7:48 PM |
Contributors
Latest Posts
Archive
2019

2018

2017

2015

2014

December

November

October

September

August

July

June

May

April

March
Tags
Everything